I promised to write a
Kapow! Comic Convention
report - here it comes!

Friday, May 18th 2012
We (
MonkeysCanDance
and I) left for
London
on Friday evening. (It would have been lovely to spend all Friday in the city, but there was another lecture at university I had to attend. The lecture got cancelled in the end… but well.) Both our car ride to the airport, our flight to
London
and our train/tube ride to the city center went well and without incidents.
At
King's Cross St. Pancras
we met up with
Vivi
and moved into our hotel room at
Wardonia Hotel
which was an approximately 2-minute-walk away from the train station. We had dinner at a lovely Indian restaurant and hit the pillow early.

Saturday, May 19th 2012
The next day we got up at 6:00 AM to get ready for the convention. I wore
Leah
from
Marvel's Journey Into Mystery
that day.
A friend of mine had informed me that the queues in front of UK conventions are always pretty long. Therefore we left the hotel at 8:30 AM to be at
London Business Design Centre
at 9:00 AM – the time the convention opened.
Unfortunately the queue was already 2 ½ blocks long the time we arrived at the convention center. We were shocked. We had never seen a queue this long! (In Germany you hardly ever have to queue to get into the the convention building.) I tried to make good use of the time, put on my long skirt and got my costume ready. While queuing we also met
Lilistprince
and
KingIsAmused
for the first time! ♥
It was about 9:30 AM the time we made it into the convention center. I also met my friend
Johanna
there. We both did an internship at the fashion label
Saloni
in
London
two years ago. It was amazing to meet her again!
The first person we decided to see was
Kieron Gillen
who is the writer of
Marvel's Journey Into Mystery
- the comic I was cosplaying from that day.
Luckily
Boa
,
Vivi
and I had brought comics for signing along.
We were all really excited to meet him. He was so incredibly nice! He signed my book and we took a picture together. He even told me that he had traced the production progress of my costume!! He also took an
Instagram
picture of
Lilistprince
and me as
Loki
and
Leah
.
:thumb303865457:
Later on we also met
Dough Braithwaite
who is the penciller of
Journey Into Mystery
in the artist's alley! I didn't even know he was at
Kapow!
. We took a picture together and he sketched a tiny
Loki
into my first volume of
JiM
. He complimented me on my costume and said that I looked exactly what he imagined
Leah
to look like. I had absolutely no words! To get such amazing feedback from the writer and the penciller of a series is an incredibly big honor and I really, really appreciate it. I would have generally never expected that my
Leah
costume would be received so well.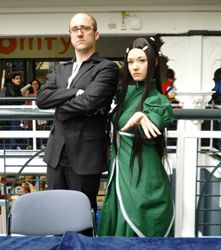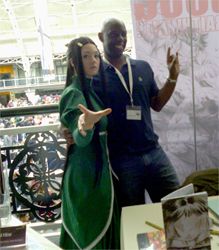 I also stopped by at
AmanoJyaku
's table in the artist's alley. He's a professional comic pin-up artists from the US. We had talked on
deviantArt
before and he had asked me if he'd be allowed to use one of my
Batgirl
photographs as a reference for one of his new projects. Have gave me two signed prints for me and my photographer.
I was blown away by his work! I would have never expected this picture to turn out that well! I absolutely love and I'll get a proper frame for it as soon as possible!
After getting an autograph from
JOCK
for a friend (Sidenote:
Jock
was so incredibly nice was well! I have no words!) we started queuing to see
Scott Snyder
. We wanted to line up, like, 1 hour before the signing started, but by the time we reached the end of the queue somebody was already holding the the
"End of Signing Queue Here"
sign. We were a bit frustrated at first, decided to stay in line though. We were in second place behind the boy with the sign. There were only a father and his 10-year-old son in front of us.
A few minutes later one of the staff members informed us that our hadn't been in vain and that they would try to get all people in line to see
Mr. Snyder
. We were relieved. He was the reason we attended the convention for. Haha.
By the time we reached the signing table we were really excited. You don't meed a world-famous comicbook author every day - especially not when you live in Germany. Famous artists hardly ever attend German conventions.
The father with his 10-yeard-old son were up first. The father wanted to take a picture of his son and
Mr. Snyder
, but I stepped in quickly and offered them to take a picture of the three of them together.
Father and son were happy,
Mr. Snyder
shook my hand. We started to chat a bit, he signed my first volume of
"Gates of Gotham"
and I told him that I'd be at the convention as
Stephanie Brown
the next day and he was all like: "I love Stephanie. I'd love to bring her back in the New 52, but I'm not allowed to. Come along tomorrow and we'll take some pictures together." It was amazing to meet him. I mean, I hardly ever blush when I meet people I admire, but this time...
Afterwards I changed clothes and
Boa
,
Vivi
,
Johanna
,
Ne0Nic0
and her friend
Rachel
we went to a fish & chips restaurant to have dinner. We later also met up with
LucilleSmiles
who happened to be in
London
as well. We had coffee and cake and chocolate and sandwiches.

Sunday, May 20th 2012
On Sunday we got up at 6:00 AM again and got ready for the convention. I wore
Stephanie Brown
's
Robin
outfit that day and I was really excited to see whether people would recognize the character or not. We had breakfast at
Prêt-à-Manger
and went into the convention building at 10:00 AM. We didn't really know what to do, so we went to see
DC
's
The New 52
panel with
Dan Didio, Scott Snyder
, etc. It was pretty interesting,
Dan DiDio
came across pretty unsympathetically though. To me it felt like he didn't take his fans and customers seriously. When one of the fans asked him when
DC
would bring
Wally West
back Mr. DiDio was all like: "Haha. Who's Wally West?" Besides a few series I'm not a fan of the
New 52
and this panel definitely didn't change opinion for the better.
A good thing about the panel was that we met a French comicfan called
Bruno
who told us about a French comic convention which takes place in Paris in July.
Rafael Albuquerque
will be at the convention and I'd love to see him! But let's see…
After the panel we queued to see
Scott Snyder
again. It was amazing that he remembered who we were and we took pictures together – just as promised.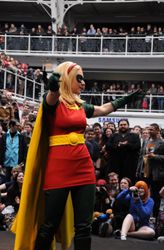 I also met an amazing
Batfamily
cosplay group from UK that day!
Anna
,
Claire
and
Spider
were so nice! It was a pleasure to meet them! I hope I'll see them again the next time I visit a British convention.
Later that day I also took my chance in the cosplay competition, I didn't win anything though. Right afterwards I changed clothes and we had late lunch at
Pizza Express
and did some sightseeing.
➡ All in all
Kapow! Comic Convention
was a blast, worth every cent I spent and one of the best events I have ever been to! I'd love to go there again next year!