➡ Alright, folks! I'm back from
London
/
MCM Expo
/
London Comic Con
, etc! And it was a blast! It was absolutely worth the exhausting bus, plane and tube rides with my 18kg suitcase! It was also the biggest convention (70.000+ people) I have ever been to!
We did some sightseeing on Thursday. On Friday I wore my
Belle
costume which was very comfortable to wear, not too cold and not too hot and incredibly successful with the children. On Saturday I dressed up as
Daenerys
which wasn't a too good idea - temperature- and movement-vise. I have never seen such a crowded convention building before. It was crazy. One of the positive aspects of Saturday, however, was that I met
Miltos Yeromelou
who plays
Syrio Forel
at the convention! We chatted a bit, I also took a picture with him. He's such a nice and hearty person! On Sunday I wore my
Spoiler / Stephanie Brown
costume. Nobody recognized me, but that was alright. We had to leave soon to catch our flight back to Germany anyways.
THANKS A LOT
to all the amazing people I got to meet and to spend time with at
MCM Expo
. You know who you are! I really enjoyed my stay and hope that I can attend another convention in the UK again soon! ♥
A few quick impressions of Friday and Saturday...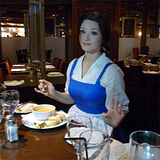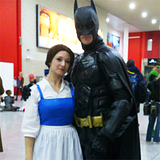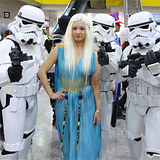 ➡ Now that
MCM Expo
is over there's only once convention in 2012 left I'm going to attend which will be
TiCon 2012
in
Würzburg
in November. Since I have to focus on project work at university at the moment I won't make a new costume for this convention. So I'll simply bring...
TiCon 2012, Würzburg

Belle
from
Disney's The Beauty and the Beast
I hope we'll be able to take a few pictures in the small park and around the castle close-by. The location suits
Belle
pretty well.
➡ And last but not least check out the lastest interview/feature of my costumes at
Geek-Pride.co.uk
!
Mark
did an amazing job! The questions were really well thought-through.